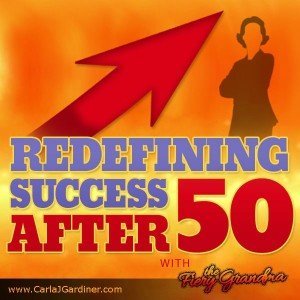 How to Redefine Success After 50
Over the past two weeks, I've shared information about why women over 50 are tired of their jobs and the three options to consider before quitting your job.
Today, it's time to look into the option for building a business I chose. Sometimes it's easier to make a choice for ourselves when we can understand why another woman did what she did.
My professional background
Many of you know that I am an ex-banker by trade. Right out of high school I started working for a national bank located here in our small town.
The work was challenging, it always is when you work with people and their money. However, I found serving others to be my strength and part of my purpose in life.
Like any young person would do I began my ascent on the corporate ladder hoping to claim the coveted position of loan officer. Additional schooling became necessary in order to qualify. Two years of night school and I was able to knock out those requirements. However, when it came time to interview for the position the rules of the game had once again changed. Now a college degree was required, not simply accounting classes.
Many working women find themselves in a similar situation – working for years to attain a goal or position at work only to have the carrot moved another five feet in front of you. It's pretty difficult to reach any goal when the rules change as you reach the goal.
I left banking to build my own businesses
My grandpa always told me to work hard, play fair and your dreams would come true. Well, to this point in my life grandpa's advice had not helped me get my dreams. It seemed that those dreams I had of traveling to far off places with my family was even further away now than ever. But, I've got my grandpa's blood in me, I am NOT a quitter.
Rather than look for another job where I was trading hours for dollars at someone else's business I decided to start my own. I must admit many of my family members thought I was crazy. I had two small children and a husband who was very active in the sports community.
But, I wanted our financial situation to change. I was sick and tired of robbing Peter to pay Paul. My idea of a vacation was more than the annual trip to the mountain creek to go fishing. I wanted to take a cruise; you know the one with the huge cruise ship with the Nordic Princess on it. I wanted to see what the big wide world had to offer outside my small, country town.
My first business was a network marketing vitamin company. I remember very well that first meeting. Arms folded and skeptical I truly thought it was some sort of revival. How could all of those people, many of whom I know be so happy and excited?
What I learned that night was this one thing that I have held onto my entire career of working from home. The woman at the front of the room presenting the information asked one question that burned into my head "If you keep doing what you are doing today, will your life look any different five years from now?"
She was right. I had to change what I was doing if I wanted things in my life to change. I enrolled that night and immediately got sick to my stomach. Fear took over my body. What would my husband think? What about my friends and family say?
Fifteen years I worked building that business. We made good part-time money, experienced the travel I had only dreamed of like that cruise…yes, to the Caribbean it was everything I thought it would be and more.
However, I needed to get a part-time job to supplement my network marketing business that was dying. The economy hit our business hard. Customers called night and day sad to leave but they too had to make tough economical decisions…vitamins were at the bottom of the list and so they had to stop their orders.
When circumstances out of our control hit we have two choices. We can sit down, cry and allow depression to set in or we can cry, let it out and adjust our course of direction. In other words, pick yourself up, make a new plan and pull that trigger, fast.
Brick and mortar business a solution
Through my vitamin company, I found another business to sustain our finances. Auto transport brokering was a hot business and I wanted in. Using my credit card to finance getting started gave me the kick in the pants I needed to roll up my sleeves, learn the business and get up every morning at 5 A.M.
Our first year in business was very profitable. I could see the debts getting paid off, our retirement coming together and our home improvements becoming reality.
However, beginning the second year in business Mother Nature was about to teach a lesson in Business 101. Check and adjust was something I had not been taught. It seems it is an unspoken part of doing business, one that you either learn early or your business suffers.
Now, eight years later I am faced with the economy causing changes in regulations within the industry. In a down-turned economy, the service providers have increased their rates, license and bond requirements have increased seven and a half times.
Once again, it's time to check, adjust and move QUICKLY. There is no time to sit and cry about what we are going to do. A good friend told me "It's nothing personal, it's just business". As a business owner, we must remember that very saying, make decisions quickly and then act accordingly.
Learn, Apply and Work
There's an old saying that goes like this "When the student is ready, the teacher appears". After more than thirty years of working – for the bank, in my network marketing business and now my online business I can honestly say this one thing: it's been an adventure.
Today, I've been able to take all the lessons I've learned over the years and present them to you, here on my blog. If you are ready to learn then you'll understand the lessons, apply them in your life and avoid the pitfalls I made, time and again.
I've found a great community of women over 50 who have expertise in many areas of business that I do not. By partnering up with them it allows me to build my business faster, with prospects calling me instead of me chasing them. It has allowed me to avoid making some deadly mistakes which have saved me time and money. Wouldn't you like to be able to generate an income working from home like that?
So, to summarize this series of three articles about women over 50 who are tired of their jobs, wanting to work from home and join me in building a business; you have choices before you. Do your research making sure your choice lines up with your personality, passion, and purpose. Find an expert to lead you, to help you avoid the pitfalls many newbies make. This will save you time, money and most importantly headaches.
If you enjoyed this article and found it helpful, please leave a comment below. Click "like" and share with your friends.
[contentblock id=1 img=gcb.png]
[contentblock id=2 img=gcb.png]